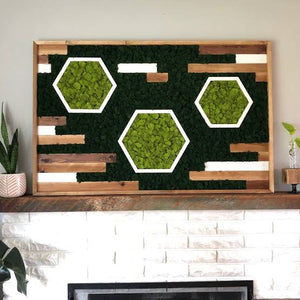 Add texture and warmth with our newest wall art design. This moss wall art piece is handmade with preserved moss. Preserved moss requires no maintenance. The woods used in the geometric design are alder, and pine. Our art has a mystical feel, and will bring the outdoors inside for that warm feeling nature provides.
Greenery is know to boost productivity in the home and office spaces. It brings a sense of calm and elevates the energy. Everyone will be amazed and the beauty of this piece and feel its tranquil presence.
NOT HANG IN DIRECT SUNLIGHT
*** Please note that custom-made panels may and will be different from the original, presented on the photo. The texture of wood, colors and shades of coloring can not be copied, each time it is an individual work and a completely unique product, but with the desire for the original idea. Pieces are made of one size elements, and their number will be different depending from the size. Dimensions of finished products can change for +/- 1'' (2,5 cm).