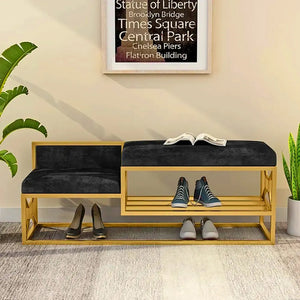 Having a bench that serves as a storage space for your shoes is an excellent idea. When you most need it, you may take it with you wherever you go around the house or property. In addition to serving as a bench at the foot of the bed, this upholstered bench may also double as a seat in an entryway because of its built-in storage space under the pink seat. This multipurpose upholstered bench of furniture is available in various designs and may be used in a variety of settings, from the bedroom to the living room. Upholstered in unobtrusive velvet with foam cushioning framed with gold-coated metal that makes it strong, this bench exudes both modern design and comfort.
- In addition, the metal legs give long-term stability magazines, and shoes may be stored on the open shelf under the seat. Storage benches in your foyer are both useful and stylish.
- Overall Dimensions: 39.4" W x 11.8" D x 17.7" H (1000mmW x 300mmD x 450mmH)
Assembly Required : No
Upholstery Color can be customised. For color customisation contact on WhatsApp, Instagram and Email.